I just realized I did not take very many Halloween photos of the girls. This was one of the only ones that was half decent. Here they are getting ready to make the rounds....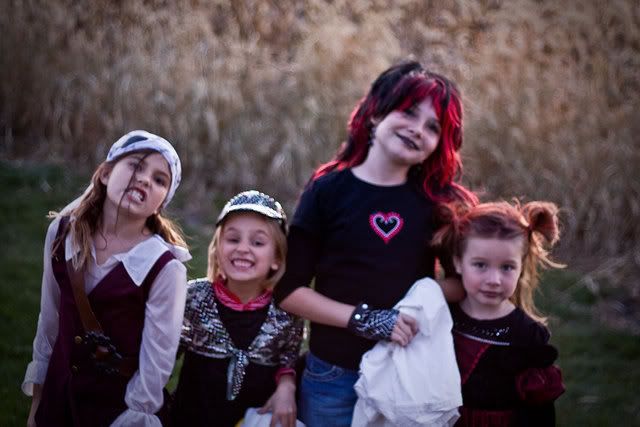 If you haven't checked out the scrapfaith website in awhile...you should. If you are interested in faith or scrapbooking or both have a little peak. The link is off to the right. There are some changes that are taking place...including free stuff just for commenting...can't beat that. Anyway, me plagiarizing the scrapfaith blog with the following:
There are amazing changes coming up in the near future here at ScrapFaith.
Including....

- Slideshows of all submitted challenge layouts.


- Monthly prizes. But NOT for a chosen layout, because art is subjective. Instead we will be giving away a large prize pack each month from a winner of our comment draw. That's right...starting in NOVEMBER, each time you leave a comment in a certain month you are eligible for the prize. Only one comment per post please. So if you leave a comment on every post you have the best chance at winning.

- A ScrapFaith Flickr group where you can post any faith based layout you choose.

- A re-design of some of the features on our site.

- Even more inspiration from our amazing team.

- More amazing Guest Artists. Check out the growing list by clicking the link in the right hand tool bar.
And yes, my house if for sale....it is quite lovely if I do say so myself...let me know if you'd like to buy it, I will give you a deal =). Not really going anywhere far, maybe just 10 miles east or so...we shall see how it all works out...will let you know more as I know more. Until later....