I don't know that I have ever felt so busy in my life. I think part of my busy feeling is due to having to keep my house looking perfect all of the time. It sucks. But...you never get another chance to make a first impression so I feel like it has to be ready to go at all times. I ordered some frames for pics I took of the girls and they came this week. Usually I would let them sit around for awhile before I put them up, but because of the house thing, I took them out of the package that night and put them all together and hung them up...here they are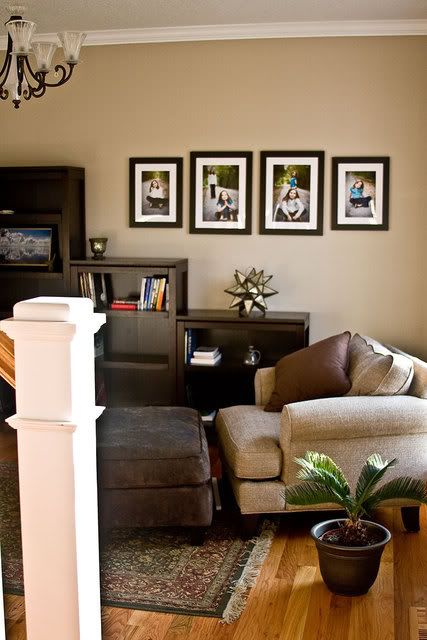 This is my room that for 3+ years had no purpose, no furniture...so it is looking a bit better finally. let's see...why else am I busy? bella is playing basketball and has practice twice a week, girls have church on wed night, my partner at work is missing in action again. I'm not complaining =)....just making excuses for my lack of blogging. So today...I have been a completely lazy bum. It is 5 pm and I have accomplished absolutely nothing very useful. I slept in. I ate breakfast and lunch. I got a free photobook on snapfish from the oprah show which I spent too long making. I made a calendar page for my mom's annual calendar she gives to grandma...I realized that I forgot how to use photoshop since I have been using lightroom so much for my photo editing. It took longer than it should have but it turned out okay I think.
I finally washed my face and brushed my teeth about an hour ago. I played memory with Emma. I have been watching a marathon on bravo about the real housewives of orange county. Interesting group of women...spoiled and shallow. I watched grey's anatomy and I think it is going off of the deep end again...I'm disappointed, they should have learned from their failures last season. Overall, a good lazy day. I think that is all I can think of at the moment. Have a lovely rest of the weekend.