I was pretty busy at work today, but not busy enough to neglect my internet surfing....here is my find from today. I always like it when someone tells me I'm cool, even if it is a stupid internet quiz =).
You should have grown up during the twenties




You are cool, sophisticated and hip – even by today's standards. You like things before they are considered cool, and you like them long afterwards.


Take this quiz at QuizGalaxy.com
Here is my photo from today. Sorry it is not very exciting. This is where Bella and I are heading off to tomorrow afternoon. Very excited to go to this concert. I haven't been to a concert in years. I believe I last went during college...saw The spin doctors and ?gin blossoms?.
Here is my promised layout. Kind of a more personal one. Was a bit hesitant to post this as I am in a swimsuit....but that was 12.5 years ago and I'm not even the same person anymore...so I don't even really see it as me. That's kind of what this layout is about. It is a picture of me on my honeymoon and how completely innocent I was and how much I have changed since this picture was taken. Especially the last few years as I have started realizing that I deserve better in life.
I have been through a lot over the past year. I realize how much stronger of a person I am and am becoming because of it. But I wouldn't be functioning as well as I am if it weren't for those that have been there for me, especially over the past 6 months. So a public thank-you to those who have been especially helpful....thanks=)
My girls....where would I be without them. Bella making me cards telling me how cool I am, hugs, I love yous. Emma with her ability to make me laugh with her goofiness, her funny statements and her ability to get rid of telemarketers effectively =).
My mom and dad who listen to me, give me advice and have been 100% supportive of me. Couldn't ask for better parents.
Dan, who is an inspiration for how to take the higher road in times of adversity, lets me vent and makes me smile more than I have in a long time.
Angela...who has endured countless, long, ranting emails.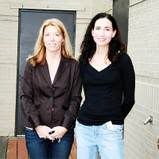 My personal trainer Doug, who I consider a friend despite the fact that I have to give him very large sums of money for him to talk to me, he has always listened, given advice and has whipped me into kick butt shape. I always leave our sessions feeling better than when I came (by the way, that is not a picture of him...but thought I should put a muscle guy in there as he does work at the gym)
That is all for now. Hope everyone has a good weekend!